What's the deal with the Iverson Twitter avi?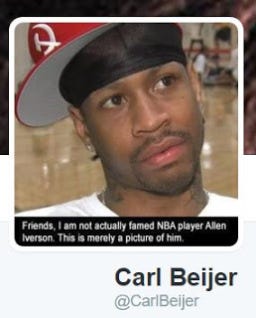 This is a bit frivolous to write about, but I get asked about it so often – with various degrees of amusement, confusion, appreciation and even disapproval – that I guess I might as well set down in a few words why I use former NBA shooting guard Allen Iverson as my Twitter icon.
The short and sweet answer is that I love Iverson. Always have. He's from my home state of Virginia, so I knew the name as soon as he started playing for nearby Georgetown in '94. During my formative years as a basketball player in high school, I obsessively (if…imperfectly) modeled my game after his. I remember spending hours on end working on his infamous double-crossover, even though as Kellex Barr notes "it did nothing for your game." I've always been a pretty relaxed sports-watcher, but if I ever came close to completely losing my mind, it was when Allen Iverson did this.
That 2001 playoff run encapsulated everything that was great and important about Iverson. Faced with one of the greatest playoff juggernauts of all time – the 15-1 Los Angeles Lakers, with Shaq at the height of his powers and Kobe on the ascent – Iverson handed them their only loss. Almost single-handedly. Through sheer heart and force of will. Here's a typical Iverson drive to the basket during that series:
Talk about "heart" and "wanting it more" is usually just sportscaster-speak for the guy who just happened to be a little be quicker during a scramble for a loose ball or for the guy who got a lucky roll on a wild shot, but Iverson's performance here was categorically different. Iverson realized early on in that game that the Lakers were going to swarm him and punish him every time he drove to the basket, and he clearly made a deliberate decision to take the beating and force them to beat him at the foul line. And it was brutal. He spent that game getting nearly decapitated time and time again by one of the most gargantuan players in the history of professional sports, and he paid for it dearly. And he won.
As one might guess by the way I write about him, Iverson was something more than just a basketball player. Throughout his career, he was the paradigm of the underdog: a poor black man who came up hard, who was constantly victimized by the racism of his own employers, and who never won a ring – and who through it all, has kept his integrity, kept it real, and has even kept his remarkably underappreciated sense of humor.
This is certainly what he has always meant to basketball fans, and particularly, I think, to a lot of black Americans who know his experience. And the left, which is always going to lose more than it wins, and which is only ever going to win with extraordinary self-sacrifice and hustle, has a lot to learn from him.